If you are looking for a motorhome under 7m (seven metres), you have come to the right place, as the Practical Motorhome Awards 2022 are here to help. We have worked tirelessly to use our decades of industry experience to judge the best motorhome under 7m, which we reveal here, as well as the shortlisted contenders.
The winner of the best motorhome under 7m is…
Auto-Sleeper Broadway EL
Price: £68,700
MTPLM 3500kg
MIRO 3171kg
There's much to commend this comfortable and bright van which was a popular choice among our judges, all of whom liked the spacious lounge area and excellent washroom. The rear lounge is extra comfortable, with armrests and corner headrests on the settees.
A huge Heki and three windows let in plenty of daylight, and at night there are no fewer than eight spotlights. We also appreciated the one touch-sensitive LED in the ceiling, and ambient light above the lockers.
The side kitchen is also well lit, with a large window, a second Heki, the sunroof over the cab, and two LEDs and a strip light under the overhead locker. And what about that central washroom? It screams quality and features a swinging partition that you open out to create more room for a separate shower cabinet.
We also shortlisted the following for best motorhome under 7m…
There are some other standout models on the market that made the shortlist – we round them up here.
Pilote 626D Evidence
There's a lot like to like about this ultra compact low-profile model, not least the drop-down bed and huge end washroom. A two-berth model, it provides extremely comfortable and adaptable living space, and the washroom, complete with skylight and stylish shower hidden behind a smart-looking partition, is a real winner.
Price: £62,500
Adria Compact SC Supreme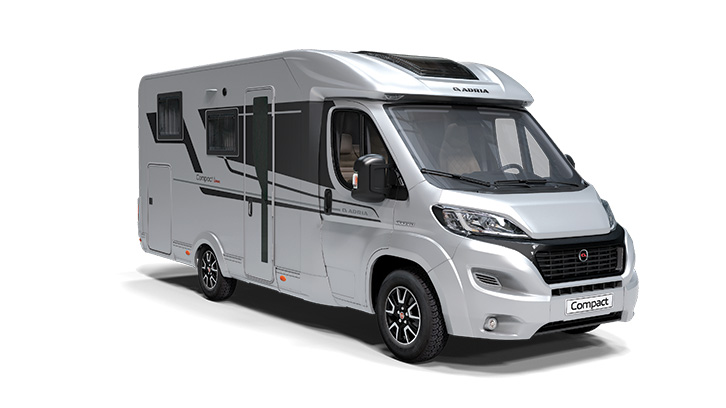 It may be compact, but the SC Supreme is spacious enough and features a large garage and a sunroof. This 2-berth model has four seats and comes in a silver body with a modern interior. The whole rear bedroom area, with its ensuite washroom, is really comfortable and has an island bed.
Price: £62,895
Chausson Exclusive Line 660
This new model includes a front lounge geared around a space where you can house a 32-inch TV – or you can use it for extended family get-togethers. Then at the back the kitchen leads straight back to a garage with external access – perfect for bikes.
Price: £57,890
Rapido C50
This compact low-profile with special Fiat chassis has an electrically height-adjustable central bed and the living room converts to single occasional berth. It's a bright and comfortable model with smart design touches and modern styling.
Price: £61,100
Itineo PC640 Spirit Edition
It may be one of the 'Cosy' range, but there's plenty of room in the PC640 due to its good design and layout. Highlights include the electric drop down bed and large rear bathroom. Friends and family will also enjoy the spacious dining area.
Price: £47,600
Rimor Seal 12P
There are no fewer than six travel seats in this four-berth, so your kids could bring along extra friends for the day or to camp outside. In just 6.48m, there's still room for a fixed adult bed and a separate shower too!
Price: £52,495

If you've enjoyed reading this article, why not get the latest news, reviews and features delivered direct to your door or inbox every month. Take advantage of our brilliant Practical Motorhome magazine SUBSCRIBERS' OFFER and SIGN UP TO OUR NEWSLETTER for regular weekly updates on all things motorhome related.
We have used our decades of industry experience to judge the best motorhome under 7m