If you're looking for a motorhome under 7m (seven metres), you've come to the right place, as the Practical Motorhome Awards 2023 are here to help. We've worked tirelessly to use our decades of industry experience to judge the best motorhome under 7m, which we reveal here, as well as the shortlisted contenders.
Making our list are models from some of the biggest brands out there, including Elddis, Benimar and Dethleffs. You can also see the models that were shortlisted at last year's Awards, which features 'vans from the likes of Auto-Sleeper, Adria, Pilote and more.
You can find out more about the various manufacturers in our round-up of the best motorhome brands.
Our winner this year is the Elddis Autoquest 115, a motorhome that impressed us thanks to its bright lounge and the useful end kitchen.
The winner of the best motorhome under 7m is…
Price: TBC
MTPLM: 3500kg
MIRO: TBC
Payload: TBC
Length: 6.6m
Width: 2.2m
Reason to buy:
Great, spacious bright lounge, useful end kitchen
Reason to avoid:
You could say it is the difference between Continentals and Brits, but when Erwin Hymer UK redesigned its end kitchen two-berth to fit on a slightly longer chassis this season, what use did the designers make of the extra 45cm that gave them? They didn't, as some might expect, expand the corner washroom. The motorhome still has a shower that shares space with the washbasin area. Instead they have lengthened the parallel settees.
When you think about it, that makes perfect sense. It means you have more room to entertain your friends, and it's great news for the taller ones amongst us if you prefer to keep the settees as single beds. But even if you make up the double, this arrangement means there are still two seats each side that remain as seats. As these seats are the right side for the kitchen, they make a perfect place for whichever one of you is the early riser to perch and have a cup of tea. But it could even mean that, if you want to, you can leave the bed made up all day and still have a place to sit.
Not expanding the shower also means this motorhome's ample wardrobe remains intact, so you can bring along pretty much any clothes you want.
This year there's a larger rooflight too, and you get the option of a solar panel on top.
Full review: Elddis Autoquest 115
We also shortlisted the following for best motorhome under 7m…
There are some other standout models on the market that made the shortlist – we round them up here. You can also take a look at our guide to the best motorhomes for more 'van inspiration.
Price: £69,995
Berths: 4
MTPLM: 3500kg
MiRO: 3049kg
Payload: 451kg
Length: 6.70m
Width: 2.30m
Reason to buy:
Great garage and wardrobe, high level of kit, spacious end washroom
Reason to avoid:
No internal access to garage
This popular motorhome is also one that really impressed our judges.
It's a 'van which comes with a high level of kit, with highlights including a solar panel, and exterior BBQ and shower points.
A sunroof and eight LEDs create a well-lit interior, no matter the time of day. We really liked the big pedestal table – this can move in most directions, rising and falling at the flick of a switch.
The well-equipped kitchen is ideal for cooking too. You get a three-burner gas hob, a combined oven/grill and a 145-litre AES fridge-freezer, as well as a microwave and an extractor fan.
The spacious end washroom is also excellent, coming with a window and providing room to get dressed in.
The comfortable drop-down bed can be lowered to just above the travel seats, with access provided by a ladder. Another bed can be made by using two infill cushions.
Storage is good too, with a vast wardrobe going across the back of the 'van, providing both shelves and a hanging rail. We also like the size of the rear garage too.
Full review: Benimar Tessoro 483
Dethleffs Just Go T6905
Price: TBC
MTPLM: 3500kg
MIRO: 2968kg
Payload: TBC
Length: 6.99m
Width: 2.33m
Reason to buy:
Great shower, spacious kitchen
Reason to avoid:
Not always a popular layout
Just making it under the the 7m borderline, the T6905 is part of Dethleff's new, entry level and simple to understand Just Go range, based on a Ford Transit. This one features a French bed with a corner washroom. Such motorhome layouts have not always proved very popular in Britain, but this one might cause some people to think again. Not having the central area divided up by any partitions means you get a huge feeling of space in the front dinette and the L-shaped kitchen, and in this interior the bright upholstery and warm wood feels cheerful too.
And while unusually the shower in the corner washroom is in front of the loo, the designers have cleverly separated the two not with a curtain or concertina doors but with a partition that swings over to leave you with a completely clear showering space.
Carthago c-compactline I 143 LE
Price: £103,890
MTPLM: 3500kg
MIRO: 2955kg
Payload: 545kg
Length: 6.95m
Width: 2.12m
Reason to buy:
Great washroom, build quality
Reason to avoid:
If you need a motorhome that is under a certain length, you don't need to restrict yourself to budget models. This fixed single bed model is actually only the third shortest in German luxury motorhome manufacturer Carthago's c-compactline range, but it still comes in (just) at under 7m. We like it because that little bit of extra space pays dividends. You get a significantly larger washroom with a separate shower cubicle and a wider kitchen, with more space in the aisle in between them to get dressed in the morning.
The c-compactline, as its name implies, is also designed to be narrower than usual – this model is just 2.12m wide, so it should be able to get down more windy country lanes. Last year the range was reengineered to take weight out of it so that all models have a MIRO of less than 3000kg, thus increasing your payload. This year the interiors have been given a complete redesign, with noble cherry woodwork and high gloss ivory on locker doors.
These are the 'vans we shortlisted for the best motorhome under 7m last year:
These are the 'vans that were shortlisted for the category at the Practical Motorhome Awards 2022. The category was ultimately won by the Auto-Sleeper Broadway EL, with its comfortable rear lounge and excellent washroom just two of the factors that helped it secure top spot.
Price: £68,700
Berths: 2
MTPLM: 3500kg
MIRO: 3171kg
Shipping length: 6.63 m
Reasons to buy:
Great washroom
Comfortable rear lounge
Reasons to avoid:
There's much to commend this comfortable and bright van which was a popular choice among our judges, all of whom liked the spacious lounge area and excellent washroom. The rear lounge is extra comfortable, with armrests and corner headrests on the settees.
A huge Heki and three windows let in plenty of daylight, and at night there are no fewer than eight spotlights. We also appreciated the one touch-sensitive LED in the ceiling, and ambient light above the lockers, although the storage throughout the 'van could be better.
The side kitchen is also well lit, with a large window, a second Heki, the sunroof over the cab, and two LEDs and a strip light under the overhead locker. And what about that central washroom? It screams quality and features a swinging partition that you open out to create more room for a separate shower cabinet. It's not surprising to see this van made it onto our best motorhome round-up.
Read our full review: Auto-Sleeper Broadway EL
Price: £62,500
Berth: 2
MTPLM: 3500kg
MiRO: 2805kg
Shipping length: 6.26m
Reasons to buy:
Bright lounge
Sizeable worktop
Reasons to avoid:
Not much storage
No microwave
There's a lot like to like about this ultra compact low-profile model, not least the drop-down bed and huge end washroom. A two-berth model, it provides an extremely comfortable and adaptable living space, and the washroom, complete with skylight and stylish shower hidden behind a smart-looking partition, is a real winner.
The practical addition of two foldout travel seats means you could easily use this for day-to-day use too.
A bright lounge – always nice to see when there's a drop-down bed – comes with a sunroof and 14 LEDs, but it's worth noting there are no spotlights.
The kitchen includes a two-burner hob and a sizeable worktop, along with a combined oven and grill, although there's no microwave. A clever touch is the cubbyhole that can be found beneath the corner cupboard. In here, you can find a socket that can be used for something like a small kettle.
Full review: Pilote 626D Evidence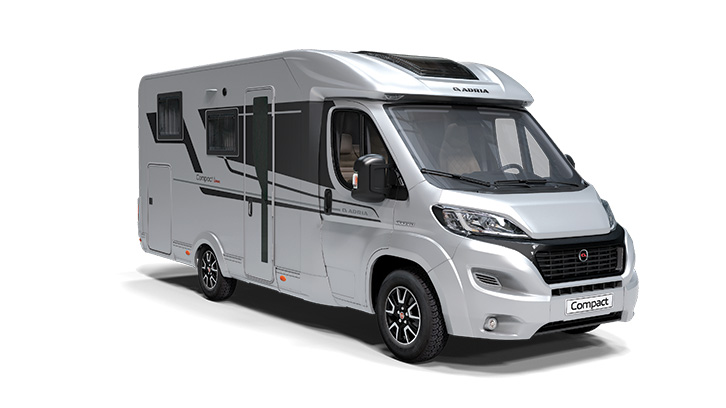 Price: £62,895
Berth: 3
MTPLM: 3500kg
MiRO: 2937kg
Shipping length: 6.99m
Reasons to buy:
Large garage
Sunroof
Split washroom
Reasons to avoid:
It may be compact, but the SC Supreme is spacious enough and features a large garage and a sunroof. This 2-berth model has four seats and comes in a silver body with a modern interior.
The kitchen has a high standard spec, complete with a good-sized sink, combined oven and grill, plus an extractor fan and an 84-litre fridge. You will also find a three-burner hob.
Despite being only 6.99m long, you still get a split washroom – Adria has even found room for two drainage holes.
The whole rear bedroom area is also really comfortable and has an island bed.
Full review: Adria Compact SC Supreme
Chausson Exclusive Line 660
This new model includes a front lounge geared around a space where you can house a 32-inch TV – or you can use it for extended family get-togethers. Then at the back the kitchen leads straight back to a garage with external access – perfect for bikes.
Rapido C50
This compact low-profile with special Fiat chassis has an electrically height-adjustable central bed and the living room converts to single occasional berth. It's a bright and comfortable model with smart design touches and modern styling.
Itineo PC640 Spirit Edition
It may be one of the 'Cosy' range, but there's plenty of room in the PC640 due to its good design and layout. Highlights include the electric drop down bed and large rear bathroom. Friends and family will also enjoy the spacious dining area.
Rimor Seal 12P
There are no fewer than six travel seats in this four-berth, so your kids could bring along extra friends for the day or to camp outside. In just 6.48m, there's still room for a fixed adult bed and a separate shower too!
How we pick the best motorhome under 7m
When we're looking at this category, we consider a range of factors, including the value for money the motorhome offers and the space it provides.
Ever since Practical Motorhome launched in 2001, we've been regularly putting the latest 'vans to the test, many of which can be found in our motorhome reviews section. Every review we carry out is fair, and we make sure we highlight both the pros and cons of each 'van. Our About Us page reveals more about our testing process.
Combining this with our Owner Satisfaction Survey, where our readers reveal how they got on when buying their 'van, puts us in a strong place to begin to create a shortlist, which we then begin to whittle down, until we reach our final list.
Have you already settled on a motorhome and are looking for somewhere to go on your next tour? If so, our guide to the best motorhome sites is packed full of great ideas.
---
If you've enjoyed reading this article, why not get the latest news, reviews and features delivered direct to your door or inbox every month. Take advantage of our brilliant Practical Motorhome magazine SUBSCRIBERS' OFFER and SIGN UP TO OUR NEWSLETTER for regular weekly updates on all things motorhome related.
We have used our decades of industry experience to judge the best motorhome under 7m